QVGA (Legacy)
QVGA LCD touchscreen controller with high resolution A/D and embedded RTOS.
---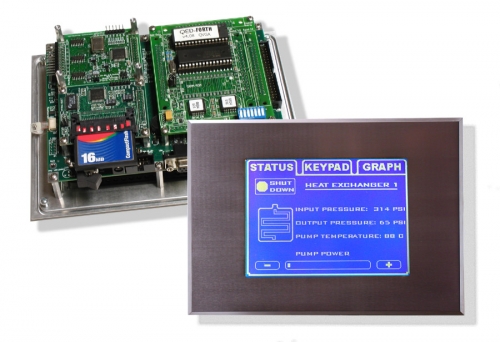 Looking for an integrated touchscreen solution for new designs? Try the
QScreen Controller
!
The QVGA Controller™ is a legacy product not available for new designs. For guidance on using the QVGA, take a look at the QVGA Controller Users Guide.
---
QVGA controller manuals and user guides:
This page is about: OEM QVGA LCD Touchscreen Programmable Controller, Program GUI in C, QVGA Graphical User Interface, OEM Instrument Controller, Embedded Computer with RTOS – OEM instrument controller with a QVGA LCD touchscreen, easily customized with menus, buttons and graphics, real time multitasking operating system (RTOS), analog and digital I/O for real time control of sensors, actuators, motors, process control, instrumentation and automation, embedded systems, industrial automation, SCADA. high contrast, CCFL backlit LCD, object oriented menu manager