Mosaic embedded designs » Embedded controllers » Operator interfaces
Embedded Controllers with Graphical User Interfaces
Versatile and affordable operator interfaces
Mosaic's embedded computers combined with displays and touchscreen operated graphical user interfaces (GUI) offer a low cost solution to instrument control. Engineers designing embedded hardware will find our HMI products ideal for numerous applications that require a programmable hand held controller and a smart user interface. A touch panel display, a powerful microcontroller, Ethernet or WiFi connectivity, sophisticated gui tools for programming hundreds of screens, compact flash mass memory, and many flavors of expandable I/O will make your system more flexible and efficient without compromising its affordability.
We offer many off-the-shelf options to the standard configuration. Combined with mix-and-match expandable I/O, this allows endless configuration options for all levels of complexity - from simple front panel applications to complex networked SCADA systems.
Source code generator makes front panel design easy
Used for scientific instruments, robotics, or process control, our affordable embedded computers come with a set of complementary features including real time operating system software, and precoded device drivers. With the help of Mosaic's GUI Toolkit and the GUI Builder you can design hundreds of screens with different levels of graphical user interface - from simple switchboards to sophisticated diagrams of entire processes. And you don't have to worry about the source code, the GUI Builder will generate it for you.
Embedded webserver for your instrument controller
Need Networking? Consider adding embedded Ethernet or WiFi communications to the instrument controller of your choice.Turn your instrument into an embedded webserver by adding Mosaic's EtherSmart Wildcard, or a WiFi Wildcard. The EtherSmart/WiFi Wildcards implement a dynamic webserver that accepts connections from your web browser, serving out static or dynamic web pages.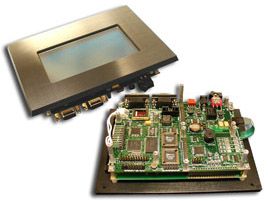 Low-Cost C-Programmable Controller
128 x 240 pixel Monochrome LCD with Touchscreen Control
Built-in Real Time Operating System (RTOS)
Easily Program Graphics, Screens, Buttons and Menus
Two RS232/485 Serial Ports, optional USB adapter
Precoded Software: Object Oriented Menu Manager, I/O Drivers
Up to 1MB Flash, 512K RAM, 64Mbyte Mass Memory
Panel Mounts with Bezel
Environmental Gasket and Screen Protector are available to provide a tight, chemically resistant seal between your touchscreen and bezel and to prevent scratching & infiltration of dust or liquids.
Designed as a fully-functional, compact industrial PC powered by an HC11 Motorola microprocessor, the low-cost QScreen Controller is ideal for OEM applications where installation space is critical, such as embedded systems, scientific instruments, robotics, and portable data acquisition.
For a fast time to market, order a QScreen Starter Kit (Part No. QSSK), which includes everything you need to rapidly prototype your product: the QScreen Controller with a monochrome LCD, real time clock, 512K RAM and 1MB flash, convenient connectors, 9 pin serial cable, power supply, and documentation.
To communicate with your QScreen via USB, order the QSSK-USB Starter Kit version which includes a USB to RS232 adapter cable.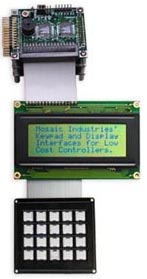 Custom "Off-the-Shelf" Keypad/Display Interface
Hosts 4 line by 20 character display with optional LED backlight
Interfaces to 4 row x 5 column keypad
Simple ribbon cable connection enables custom placement of keypad and display
Easily controlled via pre-coded software
Expandable I/O
When combined with the QCard Controller or PDQ Board, the Keypad/Display Wildcard makes it easy to design interactive instruments with intuitive user interfaces.