The Keypad/Display Wildcard™
- Low cost operator interface
Tiny Card Adds an Interactive User Interface to Your Instrument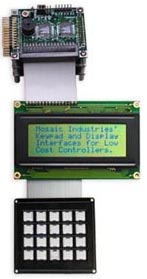 The Keypad/Display Wildcard™ provides a convenient interface to a 4 x 20 character display and 4 x 5 keypad. Combined with Mosaic's QCard™ or PDQ Board™, our embedded instrument controllers, it is an ideal solution for handheld or space-constrained applications that require a programmable embedded computer and a low cost yet smart user interface.
Measuring only 2" x 2.5", the Keypad/Display Wildcard mounts directly on the QCard. The Keypad/Display Wildcard is shipped with a 4x20 character display and 4x5 keypad, plus a simple ribbon cable interface that enables custom placement of the keypad and display in your instrument. The Wildcard has an additional field header that brings out 4 nibble-wise programmable input/output lines and 4 input lines.
Add more I/O
You can add lots of "custom off-the-shelf" I/O to your system using Mosaic's diverse set of Wildcards. Wildcards are modular 2"x2.5" plug-in boards also known as mezzanine boards, that you can mix and match to create your own custom system.
When combined with the QCard, Mosaic's single board computer, the Keypad/Display Wildcard makes it easy to design interactive instruments with intuitive user interfaces. The QCard can host up to four of different stackable mezzanine boards, and you can increase their number to eight boards, if used with the Powerdock. This modular design is ideal for applications requiring multiple I/O points, high resolution data acquisition, multi-channel communications, and real-time control.
Specifications
Power:
5 VDC @ 0.5 W (non-backlit display) or 2 W (backlit display)
Display:
4 line by 20 character display with optional LED backlight
Keypad:
5 column by 4 row keypad
General Purpose I/O:



4 input lines
4 nibble-wise programmable input/output lines
Output current capabilities: 4mA source, 24mA sink

Connectors:



34-pin dual row 0.1" pitch keypad/display connector
24-pin dual row 0.1" pitch field I/O connector
Documentation