DC Relay Wildcard
Optically isolated, DC solid-state relays (DC SSR) control high current DC loads.
---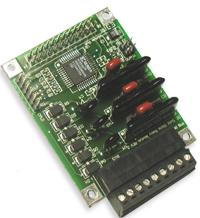 The DC Relay Wildcard™ gives you optically isolated control of up to three, 3 amp DC devices. The instrumentation of solenoids, motors, pumps, heaters, relays, valves, thermoelectric coolers and fans is a snap with this Wildcard.
Each relay supports high or low side switching from a common supply. Fly-back, transient and surge protection provide safe and reliable control of inductive loads. Opto isolated solid state relays (SSRS), provided by Crydom, provide excellent reliability and lifetime for the relays on this microcontroller expansion module.
Looking to Order?
Feel free to contact us for help with your application.
If you have just purchased the DC Relay Wildcard
For guidance on using the Wildcard, take a look at the following documents:
---
See also → Modular I/O Boards
This page is about: I/O Board Controls Optically Isolated DC Solid State Relays (SSR), DC SSRs, Crydom DC Relay Controller – The DC Relay Wildcard gives you optically isolated control of up to three, 3 amp DC devices. The instrumentation of solenoids, motors, pumps, heaters, relays, valves, thermoelectric coolers and fans is a snap with this Wildcard. It includes output relay fly-back protection, transient protection, solid state relay surge protection. Use this DC SSR (solid state relay) to control inductive loads too. solid state relays, DC SSRs, Crydom solid state relays