The Mosaic HandheldTM -
a customizable battery operated handheld computer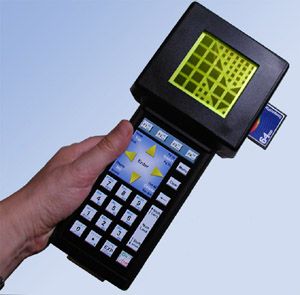 The Mosaic HandheldTM - an instrument controller with a graphical user interface for data acquisition and sensor calibration - makes it easy for you to design a custom portable instrument. It integrates a graphics display, keypad with customizable overlay, processor, memory, analog and digital I/O, serial communications, an expansion I/O bus, rechargeable batteries, power conditioning and battery charger circuitry in a rugged handheld enclosure. A DB-25 connector at the bottom of the instrument allows you to connect external signals to the instrument. The built-in Personality Board makes it easy to route internal and external I/O and data signals inside the instrument, and includes a prototyping area to simplify the addition of custom circuitry. You can plug in up to 4 Wildcard I/O cards inside the instrument to customize the Handheld for your application. The rugged plastic enclosure is small enough to fit comfortably in your hand but large enough to hold your custom circuitry, sensors and actuators.
When designing a new portable device, the job of integrating the battery charger, switching power supplies, user interface, embedded computer and board-to-board interconnects in a compact enclosure consumes a huge amount of engineering effort. The Mosaic Handheld solves all these problems for you, providing an elegant platform that lets you concentrate on the unique aspects of your application. By starting with this highly integrated operator interface system, you'll get to market faster.
The Mosaic Handheld, a programmable hand held computer, is ideal for prototyping and manufacturing portable instruments for data logging, inventory management, data acquisition, sensor calibration, industrial control, and scientific instrumentation.
A Powerful Controller and Lots of I/O
The Processor Board inside the Handheld hosts a 16 MHz Motorola 68HC11F1 microprocessor, 512K Flash and 128K RAM (expandable to 1 MB Flash and 512K RAM), and 320 bytes of EEPROM. On-board I/O includes 8 digital I/O lines with counter/timer capabilities, 8 analog inputs, a fast synchronous SPI serial interface, and dual RS232/485 ports. An optional real-time clock tracks the calendar and time of day and battery backs the 128K RAM.
To communicate with your Handheld via USB, add USB adapter and cable
(Part No. USB-QCC)
The processor is easily programmable in C, Forth or Assembly using any PC. Built-in programming tools include an interactive debugger, a multitasking executive, comprehensive device-driver libraries, and a GUI (Graphical User Interface) toolkit.
Friendly Graphical User Interface
The Handheld features a keypad and 128 x 128 pixel liquid crystal display for showing text and graphical images. The high-contrast 3.4" diagonal display and 4 column by 8 row keypad are controlled by means of a precoded GUI Toolkit that makes it easy to program an intuitive user interface using menus and bitmapped graphics. The software draws the screen graphics, responds to keypad presses, provides audible keypress feedback, and even implements front panel control of the backlight and display contrast.
Put Your Instrument Online
Web-enable your Handheld with the EtherSmart Wildcard, or WiFi Wildcard . Your application program can send emails to alert other computers on the network when significant events occur. You can even "browse into" your instrument controller using a browser running on an online PC to monitor the status of your instrument, diagnose problems or update its software.
Easy To Customize
The Personality Board allows you to filter and protect the I/O lines and to route them to a customizable DB25 connector on the bottom of the enclosure. The Personality Board also hosts up to 4 I/O Wildcards that stack onto 24-pin Wildcard connectors in the Handheld. Wildcards implement a wide variety of communications, data acquisition and control capabilities. In the Wildcards section of this catalog you can select the Wildcards that meet your needs to configure a cost-effective customized instrument for your application.
A convenient prototyping area allows you to integrate application-specific circuitry including sensors and actuators.
Battery Power for Portability
This programmable hand held computer can operate for up to 10 hours on its six rechargeable 2 amp-hour nickel-metal hydride (NiMH) batteries. The Power Board contains circuitry that recharges the batteries in only two hours. The battery pack may be charged overnight or while the instrument is in use. For non-battery applications, you can power the instrument with 15 to 26 VDC via the power jack or through the DB25 connector on the bottom of the unit.
The Power Board also implements power control circuitry that responds to a dedicated on/off key on the front panel keypad.
Fast Time to Market
For a fast start, to rapidly prototype using the Mosaic Handheld, order a Mosaic Handheld Starter Kit (Part No. HH11SK), which includes everything you need to develop a battery operated handheld instrument: the Mosaic Handheld (p/n HH11) with options: -MM, -RB,- BT, -PB PS-HH-24V, board interconnect cable to facilitate hardware development, serial cable, and a full documentation package.
To communicate with the Handheld via USB, order the Starter Kit with a USB option (Part No. HH11SK-USB).
Block Diagram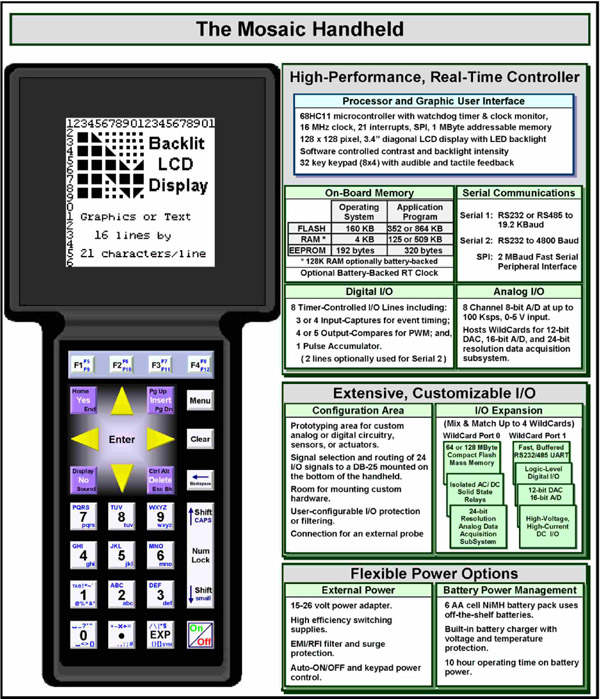 Specifications
Power

15 to 26 VDC, 17 W to charge batteries while operating
0.5 W per additional Wildcard I/O module

Batteries

6 2000mAh Rechargeable NiMH, 2 hour charge time. Will run the instrument for approximately:

10 hours without any Wildcards
and the backlight off
6 hours without any Wildcards
and the backlight on
5 hours with 4 Wildcards
and the backlight off
4 hours with 4 Wildcards
and the backlight on

CPU

16 MHz Motorola 68HC11F1,
2 MByte address space

Onboard Memory

512K Flash and 512K RAM
(optionally up to 1MB Flash)
320 bytes of EEPROM

Memory Expansion

64 or 128 MByte Wildcard
compact flash mass memory

Real-Time Clock

Interrupts

21 interrupts support the 68HC11ís on-chip subsystems

Keypad/Display User Interface

FSTN gray monochrome LCD display
with software controlled backlight and brightness
3.46" diagonal (2.44" x 2.44"),128 x 128 pixel display
4 column by 8 row keypad with dedicated on/off key
Software controlled beeper for audible feedback
Custom keypads are available

Communications

A hardware UART supports either RS232 or RS485 at up to 19.2 Kbaud
A second software UART implements RS232 at up to 4800 baud
A fast synchronous serial peripheral interface (SPI) provides communications at speeds up to 2 Mbaud

Timer-Controlled Input and Output

8 bitwise programmable I/O (2 used for the secondary serial port
3 or 4 input capture functions
4 or 5 output compare functions
Pulse accumulator

8-bit Analog to Digital Conversion

8 input channels
Up to 100k samples per second
May be used as digital inputs

Connectors

DB-25 connector - customizable for your I/O needs by installing jumper wires on the Personality Board
2.1mm female power jack

Runtime Security

A watchdog timer and clock monitor ensures orderly reset after an error

I/O Expansion

Modular Wildcards provide additional I/O for:

16- or 24-bit resolution A/D
12-bit D/A
Isolated AC or DC solid state relays
64 Mbyte Compact Flash
Logic level, high voltage, and high current digital I/O
Fully buffered dual RS232, RS422 or RS485 up to 56Kbaud

Weight

2 lbs (0.9kg) with batteries installed, 1.5 lbs (0.7kg) without batteries

Size

4.6"/3.3" wide x 10.3" tall x 2.5" thick

Operating Conditions

0-70 C (-40 to 80 C storage)
Humidity 0-90% RH, non-condensing
Documentation: C Programmers Guide to the Handheld html | pdf
Ordering Information
Part Number
Product
HH11

Mosaic Handheld

Includes 512K Flash, 512K RAM, 128x128 LCD display, 4x8 keypad, black plastic enclosure, and precoded GUI Toolkit

Options: (add price to the standard product)

-CE

Enclosure slotted to provide access for a Compact Flash Card

-F

1MB Flash replaces 512K Flash

-RB

Real time clock and battery back up for 128K RAM (does not back up 512K RAM)

-PB

Prototyping/WildCard expansion board

-BT

Includes 6 high-capacity NiMH batteries, AA size

HH11SK

HH11SK-USB



Mosaic Handheld Starter Kit

Includes everything you need to develop a battery operated handheld instrument: the Mosaic Handheld (p/n HH11) with options: -MM, -RB,- BT, -PB PS-HH-24V, board interconnect cable to facilitate hardware development, serial cable, and a full documentation package.
To communicate with the Handheld via USB, order the Starter Kit with a USB option (Part No. HH11SK-USB).

Handheld Accessories

PS-HH-24V

Wall transformer for the Mosaic Handheld delivers 24VDC at 800mA

ADAP-USBRS

USB2.0 to RS232 adapter and 10 pin dual DB9F communications cable

QED-COM-CABLE-9

QED 9 pin communication cable, interfaces a 10 pin communications header to two 9 pin female RS-232 PC compatible serial connectors

HH-CABLE-40

Board interconnect cable terminated with low-profile .050" (1,27MM) male and female connectors. This cable is useful for development of the Mosaic Handheld, allowing for unit operation while disassembled.

AA-NiMH-BAT

2 sets of 6 high-capacity NiMH batteries, AA size
How to link to this page
To link to this page from your website, simply cut and paste the following code to your web page:
<a href="http://www.mosaic-industries.com/Products/GUI/Handheld/">Mosaic's battery powered handheld instrument </a>
Home|Site Map|Products|Manuals|Resources|Order|About Us
Copyright (c) 2011 Mosaic Industries, Inc.
Your source for single board computers, embedded controllers, and operator interfaces for instruments and automation
Handheld Instrument Controller | Programmable Hand Held Computer | HMI MMI GUI for Data Acquisition & Sensor Calibration