QVGA ControllerTM
I/O-Rich Embedded Computer Sports Advanced Graphical User Interface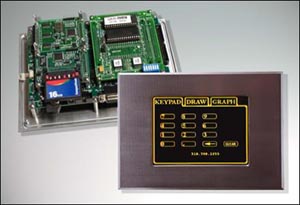 The QVGA ControllerTM is a state-of-the-art real time embedded computer with an advanced operator interface. It's an ideal "brain" and a front panel for instruments that need a highly visible graphical user interface (GUI), touchscreen monitor, computational power, I/O, and serial communications - all in one compact package. Commanded remotely from a PC, or used stand-alone, it provides real-time control of dozens of analog and digital I/O lines. Use it for scientific instruments, machine or process control, or as an advanced operator interface for existing products. Its real-time multitasking operating system (rtos) facilitates concurrent functioning of its user interface, I/O, and application software. You may use this compact, integrated device as the core hardware, software and user interface for your new products - wherever you need an I/O-rich computer and an instrument front panel with advanced user interface.
Embedded dynamic web server
Turn your instrument into an embedded webserver by adding Mosaic's EtherSmart Wildcard, or a WiFi Wildcard - 2x2.5" modular boards which stack directly onto the QVGA Controller board. These Wildcards enable communications between your instrument and other computers or peripherals on the network. The EtherSmart/WiFi Wildcards implement a dynamic webserver that accepts connections from your web browser, serving out static or dynamic web pages. Your application program can send emails to alert other computers on the network when significant events occur. You can even "browse into" your instrument using a browser running on an online PC to monitor the status of your instrument.
Advanced graphical user interface
The QVGA Controller features a touchscreen controlled graphical user interface. Combining a high-contrast 6" diagonal 1/4-VGA display and high resolution analog touchscreen, it comes complete with object-oriented menuing software that makes it easy to control your application using buttons, menus, graphs, and bitmapped pictures.
Display your own custom graphics on a bright white-on-blue cold-cathode fluorescent (CCFL) backlit LCD. Display screens and graphics objects are quickly developed with most Windows paint programs, such as PC Paintbrush, allowing you to create sophisticated displays including your company logo, system diagrams, and icon-based control panels. Real-time data plotting routines are precoded for you, so the user can see what your instrument is doing. Your application's startup screen executes automatically on power-up.
Use the QVGA Controller as your instrument front panel boasting hundreds of screens, each with software configurable buttons and menus. A precoded menu manager simplifies menu-driven control, making it easy to define buttons, menus, icons, and their associated actions. With the touch or release of a button, the menu manager responds, sending an appropriate command to your application program. Onboard software draws the screen graphics and responds to button presses for you, so you can focus on your application.
C-programmable and customizable
You can program the QVGA Controller using either the ANSI-standard C language or Mosaic's QED-Forth language for real-time control. Its embedded firmware reduces your time time-to-market - it comes loaded with a real-time multitasking operating system, object oriented GUI Toolkit, and hundreds of precoded device drivers for all I/O. Programming is a snap using the interactive debugger and multitasking executive. Libraries of hardware control routines including drawing and plotting functions for the display are already preprogrammed for you. The GUI Builder program allows you to quickly design and place your buttons and graphics in a menu-based system, while generating the GUI source code for you. The real-time operating system in onboard FLASH memory manages all required initializations and automatically initializes and starts your application code.
Mix and match embedded I/O
Control dozens of analog and digital I/O lines in real time. The QVGA Controller commands eight 12-bit analog input channels, eight 8-bit analog inputs, eight 8-bit D/A lines, 24 digital I/O lines including timer-controlled channels, 4 high current drivers, and two RS232/485 ports. Pre-coded I/O drivers make it easy to do data acquisition, pulse width modulation, motor control, frequency measurement, data analysis, analog control, PID control, and communications.
Need even more I/O? The QVGA Controller hosts Mosaic's WildcardsTM, small I/O modules for sophisticated and dedicated I/O. Stack up to eight Wildcards for: Ethernet or wireless control, GPS tracking, 16- or 24-bit resolution programmable gain A/D; 12-bit D/A; compact flash mass memory; AC or DC solid state relays; configurable digital I/O; additional RS232, RS422 or RS485; or high-voltage, high-current DC inputs and outputs.
Plenty of memory
384K Flash and 256K RAM provides plenty of room for your application code and graphic screens. Custom controllers with 768K Flash and 640K RAM are also available. For those really extensive applications that require lots of memory or removable data storage, the QVGA Controller hosts compact flash cards at 64 Megabytes and greater.
Need Protection from Aggressive Environment?
Consider our Environmental Gasket to provide a tight, chemically resistant seal between your touchscreen and bezel and to prevent infiltration of dust or liquids.
Fast Time to Market
For a qucik and easy start, order
QVGA Starter Kit
(Part No. QVGASK)
, which includes the QVGA Controller (p/n QVGA-BB) with a monochrome display, battery-backup of the 128K RAM on the QED Flash Board, a 9 pin serial cable (p/n PCC9-232), 14 VDC power supply (p/n PS-14V), and full documentation. To communicate with the QVGA Controller via USB, order
QVGASK-USB
version of the Starter Kit which includes a USB to RS232 adapter.
Block Diagram
Specifications
CPU

16 MHz mc68hc11
8 MB address space

Onboard Memory

384K FLASH Memory
256K RAM with 128K RAM optionally battery backed
320 bytes EEPROM

Memory Expansion

Onboard memory expandable to

768K FLASH Memory
640K RAM with 128K RAM optionally battery backed
16 or 64 Mbyte Wildcard compact flash mass memory

Interrupts

21 interrupts support I/O subsystems

Real-Time Clock

Optional real-time clock (rtc)

Touchscreen/Display User Interface

High contrast CCFL white-on-blue monochrome LCD display with software controlled backlight and contrast
5.7" diagonal (3.5" x 4.6"), 320 x 240 pixel display
High resolution transparent analog touchscreen with software controlled beeper for audible feedback

Digital Input and Output

28 user-configurable I/O lines including:

3 or 4 input capture functions
4 or 5 output compare functions
Pulse accumulator

Four open-drain high-current outputs with onboard snubbers drive 150 mA continuously or 1 amp intermittently

Power

8 to 24 VDC
4 W
0.5 W per Wildcard I/O module
Onboard regulation, EMI filter and surge protection

Communications

RS232 or RS485 hardware UART at up to 19.2 Kbaud
RS232 software UART at up to 4800 baud
Fast synchronous serial peripheral interface (SPI) at up to 2 megabaud

Digital to Analog Conversion

8 channels of 8 bit multiplying D/A conversion, cascadable

Analog to Digital Conversion

8 channels of 8-bit A/D at up to 100 kHz sampling rate
8 channels single-ended or 4 channels differential 12-bit A/D at up to 30kHz sampling rate with unipolar (0 to +5V) or bipolar (-5 to +5V) input

Connectors

40-pin digital I/O
40-pin analog I/O
38-pin supplemental digital I/O
2, DB-9 serial ports
10-pin serial communications
10-pin power connector and modular power jack
2, 24-pin Wildcard headers

Runtime Security

Watchdog timer and clock monitor

I/O Expansion

Modular Wildcards provide additional I/O for:

16- or 24-bit resolution A/D
12-bit D/A
Isolated AC or DC solid state relays
16 or 64 Mbyte Compact Flash
Logic level, high voltage, and high current digital I/O
RS232, RS422 or RS485
Ordering Information
Part Number
Product
QVGA-MONO

QVGA Controller with Monochrome LCD Monitor

Includes QVGA Controller, plc qvga monochrome with 384K Flash, 256K RAM, 5.7" 320x240 pixel LCD monitor, touchscreen, precoded GUI Toolkit

Options: (add price to the standard product)

-BB

128K sealed battery-backed RAM in place of 128K RAM

-BZ

Mounted on a 6"x8" black anodized aluminum bezel

-EG

Environmental Gasket added to the bezel or to the touchscreen of your QVGA Controller

-MM

Additional 384K RAM and 384K Flash for total of 640K RAM and 768K Flash

-RT

Includes a battery-backed real-time clock (rtc)

-CC*

CCFL current controller provides sure start and even luminosity over all temperatures

-IS*

An intrinsic safety barrier protects all touchscreen leads

-NC*

Does not include DB9 connectors, power jack, or power switch but brings all signals to standard headers

Note:

-CC, -IS, and -NC options are only available for quantity orders of 10 or more
QVGASK-MONO

QVGASK-USB

QVGA Starter Kit with Monochrome LCD Monitor

which includes the QVGA Controller (p/n QVGA-BB) with a monochrome display, battery-backup of the 128K RAM on the QED Flash Board, a 9 pin serial cable (p/n PCC9-232), 14 VDC power supply (p/n PS-14V), and full documentation.
To communicate with the QVGA Controller via USB, order QVGASK-USB version of the Starter Kit which includes a USB to RS232 adapter.

BZL-QVGA

Black Anodized Aluminum Bezel for the QVGA Controller
How to link to this page
To link to this page from your website, simply cut and paste the following code to your web page:
<a href="http://www.mosaic-industries.com/Products/GUI/QVGA/">Mosaic's QVGA embedded computer </a>
Home|Site Map|Products|Manuals|Resources|Order|About Us
Copyright (c) 2011 Mosaic Industries, Inc.
Your source for single board computers, embedded controllers, and operator interfaces for instruments and automation
OEM Instrument Controllers | QVGA LCD | Instrument Interface GUIs | Industrial Operator Interface Panels | Programmable Touch Screen Controllers