Build your embedded
application software on a firm foundation
Mosaic Industries provides a suite of software development tools to simplify your programming. These comprehensive tools include an Integrated Development Environment (IDE) with editor and terminal, C and Forth compilers, assembler, interactive debugger, multitasking operating system, modular device drivers, precoded libraries, Graphical User Interface (GUI) toolkit with its source code generator, and a graphics image converter. Extensive documentation with precoded sample programs helps you finish your application development quickly.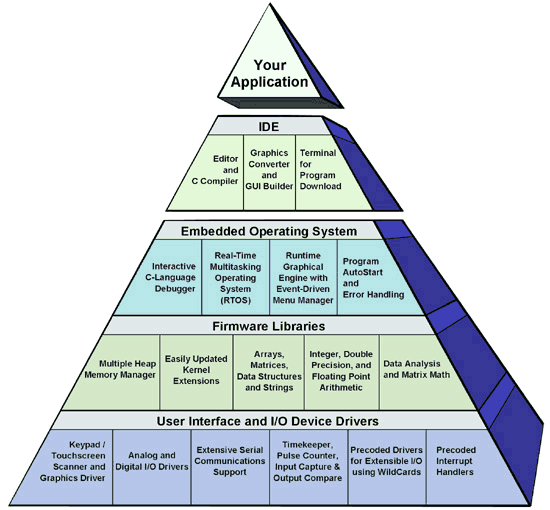 You'll be pleasantly surprised at how easy it is to develop your application using the IDE. Quick, easy development is facilitated by a wealth of precoded software. Mosaic's multitasking controllers include a well crafted operating system, hundreds of precoded library functions, and I/O device drivers. The comprehensive development software comes free of charge on each Mosaic controller, providing multitasking services and device driver functions that can be invoked from either C or Forth. All this code is prepackaged in on-board firmware, so you can build your application on a firm foundation.