Wildcard™ Carrier Board
Customize your I/O by stacking up to eight specialized I/O modules on this small memory-rich backplane.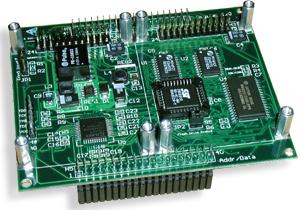 Stack up to eight Wildcard I/O modules
Provides memory expansion to 512K RAM and 512K FLASH
Efficient 5V switching regulator
Mosaic's QED Flash Board and Panel-Touch Controller contain plenty of I/O for most applications. They host two serial ports, a direct interface to a graphics display and touchscreen, A/D and D/A, timer-controlled digital I/O lines, and high-current drivers.
But many applications also require unique combinations of specialized I/O. For these we have Wildcards - small (2.5"x2.0"), stackable I/O expansion boards, including digital I/O, A/D, D/A, and relays - that you can mix and match to create your own custom system
Wildcards stack up on the Wildcard Carrier Board providing unprecedented I/O density. This modular design, with careful consideration given to manufacturing and maintenance requirements, is well suited to both small and large applications, to both instrumentation and automation projects, and where cost and physical size are critical.
The Wildcard™ Carrier Board provides an interface between the QED Flash Board or Panel-Touch Controller and up to eight Wildcard Modules. It hosts two Wildcard Module Port Connectors; up to four Wildcards can be stacked on each.
The Wildcard Carrier Board also vastly expands the amount of code storage of the QED Flash Board by adding up to 512k of Flash and 512K of RAM (128K of each provided in the standard version). The additional memory is useful for code, graphics, and data storage.