The GPS Wildcard User Guide
GPS Wildcard Hardware
The picture in Figure 1‑1 illustrates the Wildcard's hardware.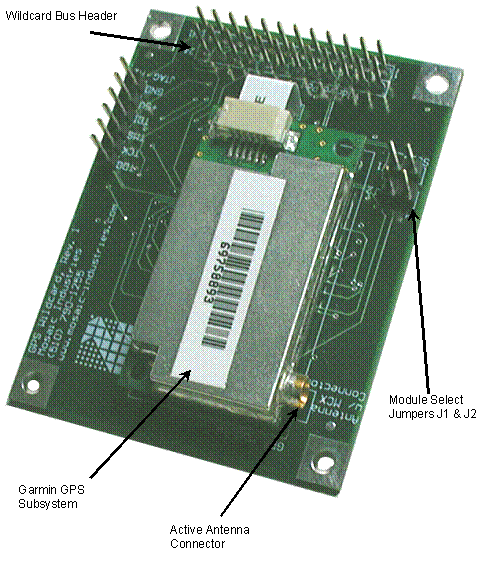 Figure 1‑1    The GPS Wildcard.
As shown in the Figure, the GPS Wildcard comprises a Wildcard bus header, a Garmin GPS-15 subsystem with active antenna connector, a UART chip, and digital logic circuitry.  Jumpers enable address selection for the card.  The Wildcard bus header interfaces to the host processor (QCard, QScreen, Handheld, or PDQ series controller).  A flex cable passes through a slot in the board to interface the Garmin GPS subsystem to the UART serial-to-parallel converter chip and power conditioning circuitry on the bottom of the Wildcard.
As shown in Figure 1‑1, the Garmin GPS subsystem is encased in a shielded metal enclosure, and includes a female MCX connector for an active GPS antenna.  The GPS will not work unless an active antenna is attached.  Mosaic sells a mating antenna with a male MCX connector that can be mounted in a location that provides a good view of the sky for optimal operation.
To connect the GPS Wildcard to the Wildcard bus on the controller board:
With the power off, connect the female 24-pin side of the stacking go-through Wildcard bus header on the bottom of the GPS Wildcard to Wildcard Port 0 or Wildcard Port 1 on the controller or its mating Docking Panel (formerly the "PowerDock").  The corner mounting holes on the Wildcard should line up with the standoffs on the controller board.  The Wildcard ports are labeled on the silkscreen of the controller board.  Note that the GPS Wildcard headers are configured to allow direct stacking onto the controller board, even if other Wildcards are also installed. Do not use ribbon cables to connect the GPS Wildcard to the Wildcard bus. 
CAUTION:  The Wildcard bus does not have keyed connectors.  Be sure to insert the Wildcard so that all pins are connected.  The Wildcard bus and the GPS Wildcard can be permanently damaged if the connection is done incorrectly.
Once you have connected the GPS Wildcard to the Wildcard bus, you must set the address of the Wildcard (also called the module number) using jumper shunts across J1 and J2.
The Wildcard Select Jumpers, labeled J1 and J2, select a 2-bit code that sets a unique address on the Wildcard port of the controller board.  Each Wildcard port on the controller accommodates up to 4 Wildcards.  Wildcard Port 0 provides access to Wildcards 0-3 while Wildcard Port 1 provides access to Wildcards 4-7.  Two Wildcards on the same port cannot have the same address (jumper settings).  Table 1‑2 shows the possible jumper settings and the corresponding addresses.
Table 1‑2      Wildcard address jumper settings.
0

0

None

1

J1

2

J2

3

J1 and J2

1

4

None

5

J1

6

J2

7

J1 and J2